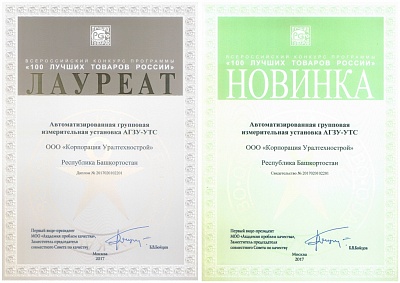 10/11/2017
100 best goods of Russia - 2017
On 9 of November, 2017 on the World Quality Day, the ceremony of awarding laureates and diplomats of the All-Russian Contest "100 Best Goods of Russia" was held in the Center of Metrology and Standardization of the Republic of Bashkortostan.

Based on the results of the tender commission, the unit of "Corporation Uraltechnostroy" LLC - Automated group measuring unit AGMU-UTS was awarded the title of Laureate of the competition and was awarded as Novelty in the nomination "Production for technical purposes".

The victories in the regional and federal quality contests allow our company to declare itself once again as a reliable manufacturer of the produced equipment worthy of the title of "100 best goods of Russia", including Flare unit, Mobile small-sized modular separation-filling unit, Gas treatment unit and others.