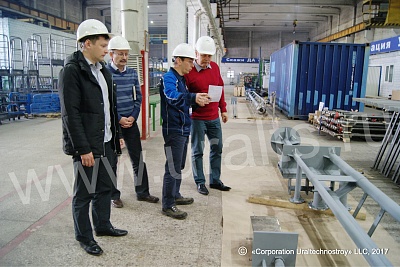 18/05/2017
Control audit of the quality management system in welding processes
On May 16-17, 2017 successfully passed the audit of the company on compliance with the requirements of EN ISO 3834-2. Requirements to the quality of welding with melting of metallic materials, Part 2 Comprehensive requirements to quality. The audit was conducted by Stanislav Zrza - auditor of the association on the certification of quality systems CQS- IQNET, Prague (the Czech Republic).

Non-conformities were not identified and some recommendations for improvement were given following the results of the audit.

The high level of cleanliness and order at production sites, the benevolence of specialists and their readiness to answer all the questions of interest are noted. And also the company's implementation of all recommendations based on the results of the recertification audit conducted last year, in particular:

• Training and certification of the company's chief welder for IWE with qualification assignment "International welding engineer";

• training and certification of five welders of the company in accordance with EN ISO 9606-1 standard.