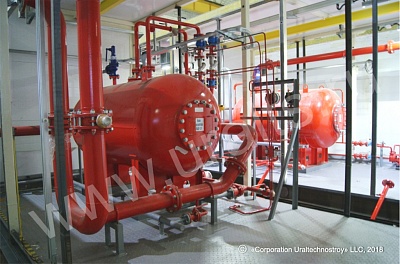 09/11/2018
Corporation Uraltechnostroy manufactured a pump station for Rosneft
Pump station НП-IV-720 for «RN-Snabzhenie» OJSC will operate at Samotlor field.

On the 31st of October the manufactured equipment was accepted by the customer.

The object represents a combined building of foam generator station (ПГС) and modular fire water pump station designed to deliver foam solution and water into fire-extinguishing network of the secured object.

Foam generator station is situated at ДНС (booster pump station)-4 ЦППН (cenral oil processing facility)-3 of Samotlor field.

All the specifications fully comply with customer requirements. Equipment was manufactured within the established time limit.