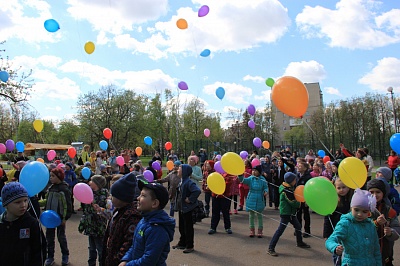 12/05/2017
Family holiday for children
On May 12, 2017 in the park "Pervomaisky" was a bright and cheerful holiday "I love my family!", devoted to the World day of a family. Children from crisis families and children left without parental support were invited to the holiday.

The organizers of this event were Guardianship Authorities of Administration of the Ufa City and the Center of Psychological and Pedagogical Rehabilitation and Correction "Zhuravushka".

"Corporation Uraltechnostroy" LLC took part in this social project. During the holiday children were handed memorable badges from the company. Children made wishes and launched helium balls symbolizing love to a family in the sky.

Director of the center "Zhuravushka" N.V. Kazban expressed gratitude to the management and employees of the company for their help in carrying out an event directed to preservation and support of family values.