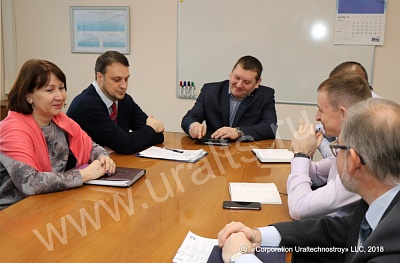 10/12/2018
Management systems audit
Over December 5 to December 7, 2018 period «Corporation Uraltechnostroy» LLC and « Uraltechnostroy-Teplopanel» LLC were undergoing a corporate integrated management system audit and once again successfully proved conformity with ISO 9001, ISO 14001 and OHSAS 18001 standards.

An audit was conducted by a team of auditors from international certification body TÜV SÜD.

Quality management system and environment management system were checked to meet the requirements of new versions of ISO 9001:2015, ISO 14001:2015 standards.

The performed audit proved efficiency of all the management systems applied in organizations, their compliance to standard requirements of ISO 9001:2015, ISO 14001:2015 and OHSAS 18001:2007.

Currently organizations perform modification work over system of Occupational Health and Safety Assessment Series Standard to meet the requirements of new version of ISO 45001:2018 standard which was implemented last year to replace OHSAS 18001:2007.