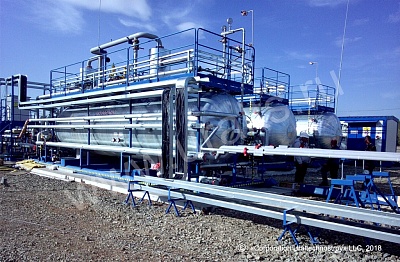 25/10/2018
Mobile equipment packages were brought into operation
«Corporation Uraltechnostroy» LLC manufactured and delivered two mobile modular separation and filling units for «Sladkovsko-Zarechnoe» LLC.

At the moment commissioning works are finished, full-scale tests completed and equipment was brought into operation at fields of Orenburg region. Units have already delivered the first merchantable oil run.

TEquipment is in mobile execution (on skid), each one complies with the requirements of the customer, liquid output of each equals 650 sq.m. a day.

Mobile modular separation and filling units becomes more and more required by resource companies due to its technical characteristics and mobility. Currently another mobile oil treatment units with liquid capacity of 1500 sq.m. a day are being dispatched.