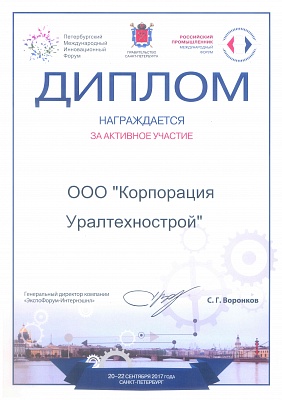 06/10/2017
Participation in the International Forum "Russian Industrialist"
The XXI –st International Forum "Russian Industrialist" and the X-th St. Petersburg International Innovation Forum took place in St. Petersburg in the exhibition and congress center "EXPOFORUM" from 20 to 22 of September, 2017.

"Corporation Uraltechnostroy" LLC took part in the exposition as a part of the collective stand of the Republic of Bashkortostan. Guests and exhibitors were provided with various solutions for the development of oil and gas fields.

The forum "Russian Industrialist" is a large-scale congress and exhibition event that unites specialists of machine-building companies all over the Russia and other countries of the world. For more than 20 years, the forum has been the largest site in the North-West region of Russia for demonstrating innovative industrial equipment, products and technologies of companies with the aim of promoting them to regional and international markets and discussing topical issues of modernization of enterprises of the machine-building complex.