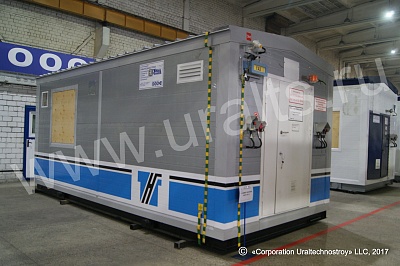 18/12/2017
Project for OJSC Tomskneft VNK
In early December, a pumping station for pumping produced water for OJSC Tomskneft VNK was shipped from the production site of Corporation Uraltechnostroy LLC.

The equipment is intended for the reconstruction of the water discharge preparation unit at the Yuzhno Cheremshanskoe oil field. The field is located in the Kargasokskiy area of the Tomsk region of the Russian Federation, 40 km north of the village of Noviy Vasyugan.

The field has 32 producing, 2 absorbing and 5 wells to maintain reservoir pressure; the necessary production infrastructure has been built, including the preliminary water discharge unit (PWDU). The total production at the Yuzhno-Cheremshanskoe field is about 1500 tons of oil per day.