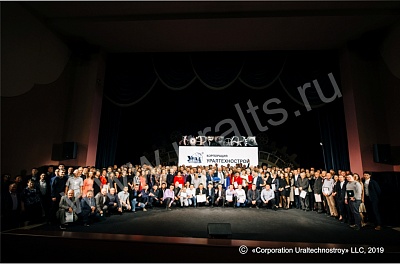 06/09/2019
25 years of efficient, creative, heart put into work business
Popping champagne corks and illusionists, delicious delights, a string band as well as swanky creative teams of the city, rewards for its heroes, tears of joy remembering old days and feeling of pride for the present and future days, all this is about celebration of Corporation Uraltechnostroy 25th anniversary. Quarter of a century lived meaningfully.

Welcome speech of O.N. Aminov, president of Corporation Uraltechnostroy: «25 years of Uraltechnostroy existence and do you know what matters? That this was all done by you. Everyone puts his heart and soul, his effort into the eventual result. We manufacture commendable equipment and there are few companies able to compete with us. In 25 years we improved not only quantity but quality. Our first units manufactured back then years ago still work. Tell the truth I can't believe 25 years have passed. I am proud! Thank you for your work! Good job everyone!»

Around 300 people attended the anniversary and professional day celebration. At the appointed hour the State theatre «NUR» welcomed dressed up public in anticipation of the long awaited event. The hall lit up as it was filled with lingering sounds of violin and other instruments and the guests began a banquet. Everybody felt joy of communication with colleagues and old resident of the company, took photos to remember by.

The official part of the event was held in the concert hall where along with gentle humor of professional hosts the audience attended the awards distribution ceremony. Performances of F.Gaskarov State Folk Dance Ensemble and musical cover band «Old School Band» blended seamlessly with the program. And everyone who stayed until the end of celebration danced to ethno rock band «ARGYMAK» with its traditional national music.

Festive evening was uniting, with the feeling of happiness for everyone's involvement in the growth of Ufa company Corporation Uraltechnostroy which persistently kept developing over the entire period of these 25 years.

S.V. Antipin, general director: «Personnel of the company are a family. I wish our big sincere and united family to have wealth, success and prosperity!»

R.R. Davletgareev, deputy chief of the Ordzhonikidze district Administration of the Ufa city district, the Republic of Bashkortostan: «Company's success is a personal success of everyone. Wishing you health, further production progress, good orders as well as financial and economic growth!».

R.F. Vagapov, first vice president: «I wish our team to be at its best at work!»

I.R.Nabiullin, executive director: «25 years path makes me proud. I'm proud for our equipment, for our cohesive team, where people stand up, support and help each other. People put heart into work. I'm glad for that. Let there be a lot of work. Wishing health and all the best for everyone!».

V.N. Novikov, head of the Military-industrial complex and mechanic engineering department of the Ministry of Industry and innovation policy of the Republic of Bashkortostan: «To develop, to manufacture competitive import-substituting products high-demanded by large integrated structures such as Gazprom, Rosneft etc. I would like to thank overhead personnel in the person of Oleg Nikolaevich Aminov for keeping and enriching traditions. Wishing health, happiness and peaceful skies for you and your families. Happy anniversary!».