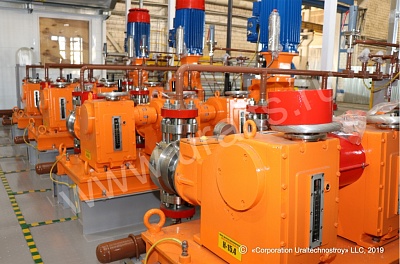 11/06/2019
Methanol pumping station manufactured in short order
A methanol pumping station with utilities system was dispatched from the manufacturing site of «Corporation Uraltechnostroy» LLC at the end of April as part of the project «Severo-Russkoye field. Treatment facilities». Equipment serves to pump methanol at the site of Gas treatment unit of «NOVATEK-TARKOSALENEFEGAZ».

This facility forms a crutial part of the scope of «NOVATEK» PJSC projects and compliance with the delivery time requirements as well as its assembly are in immediate control of company's management. Companies appointed by the customer performed inspections of all the manufacturing stages of the pumping station starting from an assembly to plant checkout tests.

Caused by climate and construction site difficulties, tight timeline of the manufacturing process made the current project so spesific.

Pumpimg station was accepted as is and dispatched before the end of winter transit period to Severo-Russkoye field.