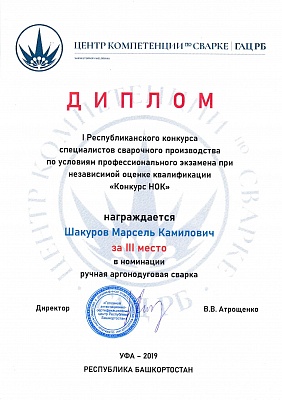 09/12/2019
High appraisal of welding production
The I Republican contest of welding production specialists was held last week under the terms of a professional examination in making an independent assessment of qualification (Contest "NOK").

Welders of Corporation Uraltechnostroy took part in this professional skills competition showing results worthy of award-winning places.

Marsel Kamilovich Shakurov came a good third best place in «manual argon-arc welding» nomination. Congratulations to the winner of the Republican contest and wishing continued success in the future!

Participation in professional competitions contributes in appraisal of welding qualification as well as in evaluation of the personnel mastership level.