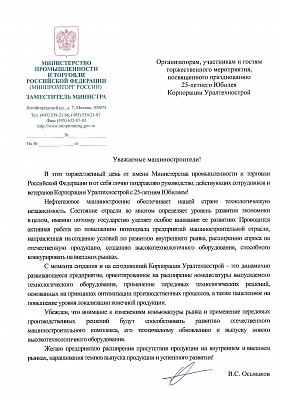 23/05/2019
Russian Federation Ministry of Industry congratulated with the 25th anniversary
Year 2019 is an anniversary year for Corporation Uraltechnostroy. Different events on the occasion of the 25 years will take place throughout the year.

As part of Russian oil and gas chemical forum a roundtable discussion was organized by our company. Top officials in Ministry of Industry and Trade of the Russian Federation and the Republic of Bashkortostan participating in it are the key customers, partners and friends of the company.

Commendable introduction, presentable appearance, audience involvement, our specialists succeeded throughout it all.