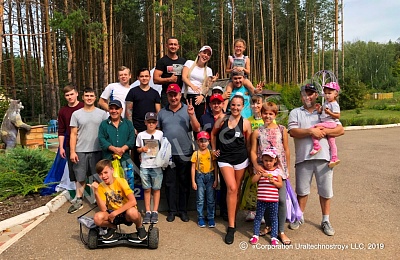 19/08/2019
Sporting traditions
The tradition of holding corporate sports and athletic contest in our organizations is well respected and kept. Each and every year ski resort «Kandry-Kul» becomes the meeting place loved by the employees of Corporation Uraltechnostroy and welcomes sport competitors. This event is for those who cannot imagine spending a day without sport, for those who energize themselves in nature, for those who prefers to take rest in a large company.

Sport professionals, people in love with physical exercises and those who simply decided to refresh physical education skills got their chances to prove themselves to be able doing kettlebell lifting, chin-ups, darts, long jumps and arm-wrestling.

Sports-grounds where competitors took part in futsal, volleyball, biathlon and tug rope legitimately drew the most attention. It's the place where one gets the most vibes, for an emotional chute-the-chute pulling for own team till the voice got strained, the feeling of pride for involvement, support and cheer, victory and defeat.

Some of the participants shared their impressions:

«I try not to skip Sports and athletic contests. I love them because it's one way to diversify my leisure time, it's also a nature trip and this is the time spent with my family. Thanks for organization!».

Warm atmosphere and weather, spirited sport fans and assiduous athletes, children who can remind of feeling a pure joy, sincerity which are all components of the last Saturday.

This event becomes a more family celebration. Children are most welcomed here. Sports day, presents, chaperon attention are all for them. They were carried along in the fresh air, competed in long jumps and darts, cheered the athletes, ate delicious meal. And this day definitely enlarged their collection of family memories.

And adult participants of contests proved that we have a company of energetic, sportful, confident people. And there's a team of young hopefuls that are growing up. With a team like this there are many mountains which are going to be conquered in the future.