Chemical analysis laboratory

Service
Chemical analysis laboratory realizes chemical analysis of produced crude hydrocarbon.
Components composition
Chemical analysis laboratory module is a ready-to-operate equipment package in a modular-block execution.
Standard Chemical analysis laboratory has the following dimensions: 6000х3000х2950 mm, 9000х3000х2950 mm, 12000х3000х2950 mm and if necessary may be joined depending on customer's and design engineer's requirements.
The Chemical-analytical laboratory represents itself a modular structure, consisting of individual structural members, combined in one integrated facility with the general life support system, designed following works description and climatic area of the installation. Dimensions of individual packages allow their handling by all types of transport.
Chemical analysis laboratory is equipped with heating systems (hot-water or electrical), lighting, ventilation, drain, fire alarm.
Internal finishing of chemical analysis laboratory is performed upon customer's request and in compliance with existing regulations.
Chemical analysis laboratory is completed with laboratory and household furniture, a set of analytical and laboratory equipment of general purpose and a set of consumable materials for testing in compliance with customer's requirements.
Example of Chemical analysis laboratory module with dimensions of 12х12 m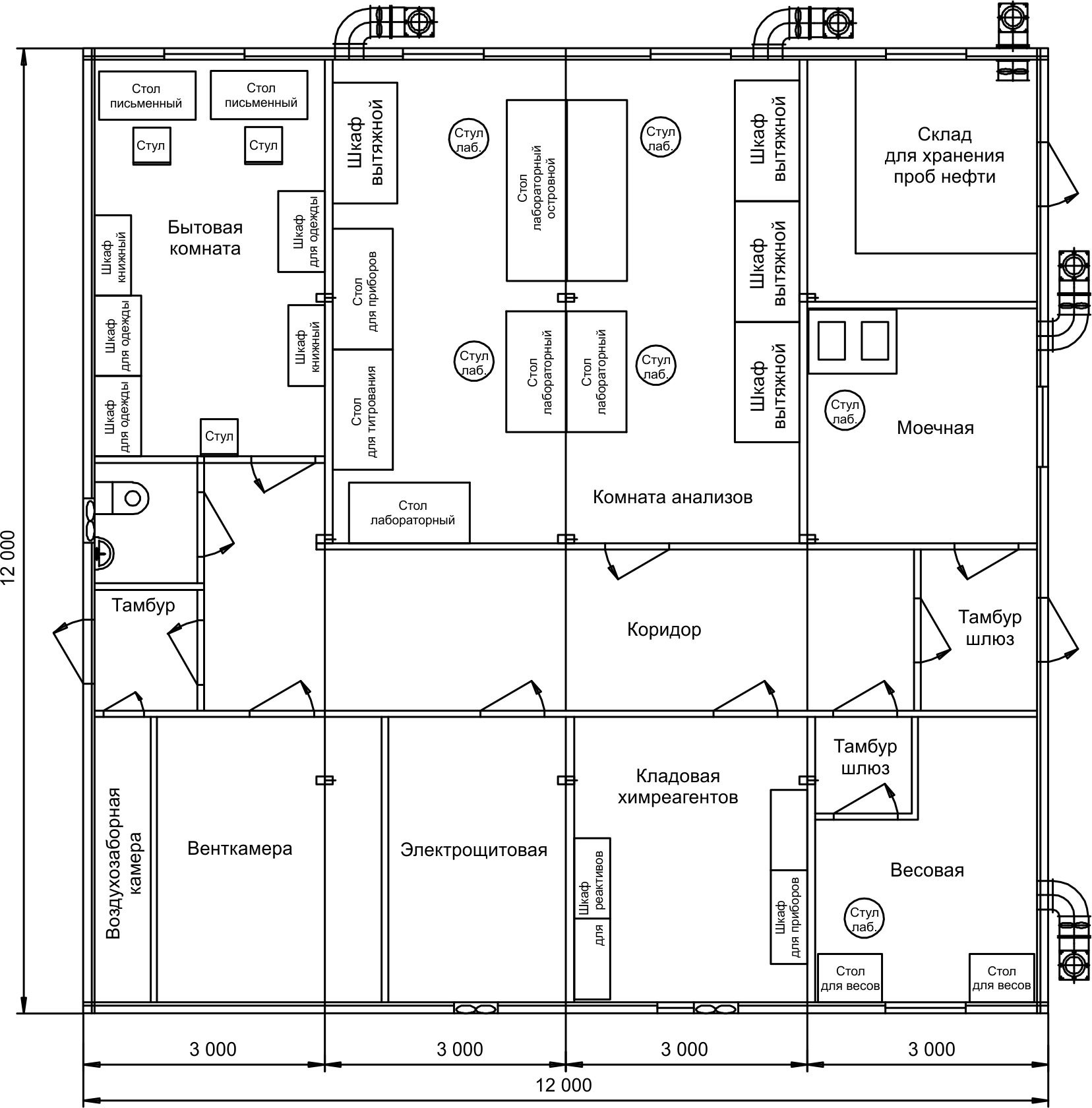 Chemical analysis laboratory

Design

Shelter module's base is made of steel profile, sealed with heat insulating ecologically clean noncombustible mineral wool covered with finishing material.

Module's framing represents closed rectangular profile. Enclosure structures are made of sandwich panels with noncombustible mineral wool sealing inserted in between painted galvanized steel corrugated sheets.

Roofing – false roof made of painted galvanized steel corrugated sheet with framing in steel profile design.

Heating and ventilation are performed in accordance with SNiP 41-01-2003, СП 2.2.1.1312, ВНТП 3-85.

Air parameters inside premises comply with GOST 12.1.005.

Lighting is per SNiP 23-05 «Natural and artificial lights».

Electrical equipment is in accordance with EIC requirements.

Chemical analysis laboratory premises are equipped with fire alarm system.

Water supply and sewage conform to requirements of SNiP 2.04.01-85.

Internal networks are separated into domestic and industrial sewerage systems.