Oil transfer pumping station

Service
Modular oil transfer pumping station serves to pump oil into oil collecting and preparation systems.
Components composition
Pumping units' equipment and pipelines are installed in a single machine hall. Electrical pumping units represent the main process equipment with an electrical ex-proof motor on a single skid. Piping for each pump unit includes: receiving and pressure pipeline with shutoff valves, check valve, drain pipeline and instruments rack. All the pipelines are located inside machine hall.
Pumping station can be installed inside shelter-module or on an open frame in various structural execution and components composition depending on customer's requirements.
Technical specifications of commonly used pumping stations
Pumping unit type

Centrifugal pumping station (ЦНСнА)

Production rate, m3 /h

38

60

105

180

300

Inlet pressure, MPa

0,05-0,6

Outlet pressure, MPa

1,32-2,2

0,6-3,3

0,98-4,9

0,85-3,4

1,2-3,4

Operating medium

oil, oil-water emulsion

Pumping units qty, it.

at the customer's requirement

Operating medium temperature, °С

+1…+45
+1…+60 if bearing cooling system is available

Temperature inside the unit, °С, not lower than

5

Ambient temperature, °С

-50…+50

Unit fire resistance level, acc. to SNiP 21-01-97

II, III, IV

Explosion hazard as per EIC

В1а

Climatic category acc.to GOST 15150

УХЛ (moderate cool), ХЛ(cold)1
Composition options:
Modular pumping station with one pumping unit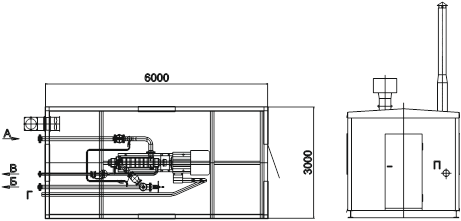 Modular pumping station with two pumping units

Example of components composition
Pumping station of oil export transfer with pumps НПС-65/35-500-3-УХЛ1