SMSFU

Small-sized modular separation and filling unit SMSFU
Lots of oil-producing companies nowadays deals with the issue of marginal field oil production, requiring the least expenses and the shortest possible time for a period of production test. Our solution option is SMSFU – Small-sized modular separation and filling unit manufactured by "Corporation Uraltechnostroy"LLC.
For the period of 2006-2014 company manufactured and delivered for over 50 Small-sized modular separation and filling units for operation in different climatic conditions and with various operation parameters.
Units are manufactured according to ТУ 3683-011-45211680-06. МБСНУ(SMSFU)
SMSFU performs the following tasks:
gas-oil separation;
oil and gas process metering;
oil filling into tanks trucks and its subsequent deliver to reception points;
oil exhaust into tank or pipeline (if necessary).
Advantages of SMSFU application:
possibility to operate in fields which are not provided with electrical power;
pre-fabricated structure of SMSFU allows to relocate the unit to another area in the shortest time;
low cost and high efficiency allows to repay expenditures shortly;
prompt execution of construction and mounting works, moderate-size building area;
SMSFU may be as well operated in East Siberia and Far North with ambient temperature of +50 to -58°С;
all required permit documents are provided.
SMSFU application allows reducing the amount of tasks required for field facility construction, excluding project approval and permit documentation acquisition phases.
Components composition
oil and gas separator V=4…25 m3;
accumulation tank V=25…100 m3 (volume and quantity of tanks depend on unit's capacity);
drain tank V=2...25 m3 (at the customer's request);
flare unit H=10...35 м (flare stack, flare tip) completed with flare ignition control system and flame control;
piping with shutoff and control valves (valve gates and regulators with electrical drive or manual control - at the customer's request);
control and metering means;
ladders and service platforms;
gas and oil metering unit;
control room;
automated filling system (AFS);
package of documentation on unit's operation.
SMSFU equipment can be of a mobile execution with steel structures support or stationary with piles support.
Delivery. Commissioning
Produced units are of modular type structure which, considering maximum readiness (90-100%), its small size and low metal consumption, allows to reduce area of structures, dates and price of construction as well as of installation activities. These advantages ensure proceeding with unit's operation in short terms . Average installation period of SMSFU constitutes 5 to 15 days.
Unit's temporary structure allows easy relocation to installation area by any transport means.
Process description
Well products (oil, formation water, gas, mechanical impurities) are supplied through oil gathering line from oil well to oil and gas separator C-1 for preliminary separation. Oil mixture partly degasified (oil) flows to separation-storage tank C-2, operated at atmospheric pressure, it performs final degasification and water-oil mixture (oil) gathering which is subsequently supplied to a tank or pipeline for filling into tank trucks or its pumpdown to a pipeline or tank. Oil pumpdown pumps can be included in a project design in case of transfer of oil mixture (oil) to reservoir or pipeline. Water-oil mixture is metered at the outlet of C-2.
Generated gas from inlet separator C-1 is supplied through gas meter and direct-action control valve to pipe reamer (PR) (or flare separator (FS), further on to flare for flaring. Gas from separator-storage C-2 is also directed to flare.
Gathered in pipe reamer condensate is directed from flare pipeline to drain tank.
Tanks cleaning during repair period is performed by steaming using steam truck connected to steaming lines, wastes are discharged to drain tank (DT). Drain tank can be of "underground" or "underground heated" type with submersible electrical pump, either it can be of frame-base execution with centrifugal type pumping out. Drain tank volume depends on customer's requirement varying from 2 up to 25 m3.
Local pressure control in C-1 and C-2 is foreseen for the unit by means of pressure gauges, level control is executed with level meters, as well as regulation of pressure and liquid level, gas flow rate metering to flare and water and oil mixture (oil) metering is provided.
Different modifications of inlet separator can be applied depending on conditions. Apparatus internals are adjusted to improve technological process. Separators with hydroclone inlet are used for better gas extraction if oil-gas ratio exceeds 80 m3/m3. If gas segregated from oil is required as a fuel for oil heaters, it is possible to treat it from dripping liquid. Thus SMSFU can be operated in fields where it is necessary to heat production fluid. At the customer's request engineering documentation design and manufacturing for SMSFU are performed with a possibility to include oil heaters, additional storage tanks (in case of increase of well productive rating), oil and gas separator with water discharge. If water separation is required then water discharge can be foreseen to be performed into separation-storage tank.
Example of process flow diagram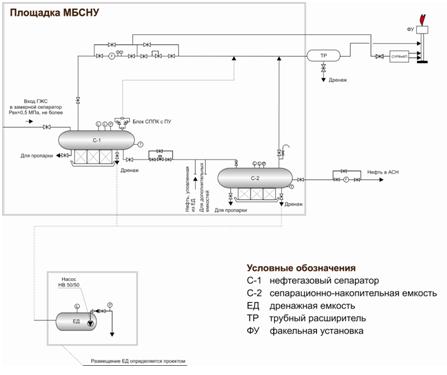 SMALL SCALE MODULAR SEPARATION AND FILLING UNIT (MOBILE)
Service
well test production;
metering of flow parameters for oil and gas components (oil, water and gas), watering, pressure, temperature, dehydrated crude oil weight and volume of non-associated oil gas;
as an additional unit in well surveying and production.
Unit can be rapidly mounted with installation at the mouth of the well, cluster of wells and in collecting and transportation systems of oil production.
Unit is completely automated and purposed to operate with minimum operating personnel.
It is certified in compliance with Technical Regulations of the Customs Union.
Small scale modular separation and filling unit (mobile) is composed of several parts, possible to be delivered in short period. "Corporation Uraltechnostroy" LLC specialists perform installation supervision and commissioning.
Operation principle
Well products (see pic.1) flows to the inlet of multiphase flow meter, which constantly measures liquid and gaseous flow of non-separated multi-component mixture which is characterized by diverse structure and flow pattern, it also measures water volume ratio (watering) of liquid flow component. Product flow from the well is then fed to separator-storage tank (C-1) for final degasification. Gas from C-1 is supplied to flare through condensate tank, liquid is fed by pump (H-1) to tank truck through loading stand.
Standard configuration includes low loading stand for tank truck filling, which has gas outlet from tank truck to cold vent stack or to condensate tank. Liquid quantity supplied to a tank truck is possible to control with flowmeter. Control unit and a room for rest are located in Control room.
Stand alone technological units and equipment are interconnected with a pipeline supported by temporary piles, having quick-release couplings or certified spiral wrap hose at pile's ends.
Manifold for propane bottles, nitrogen bottles and diesel electrical station can be out of the standard scope of supply.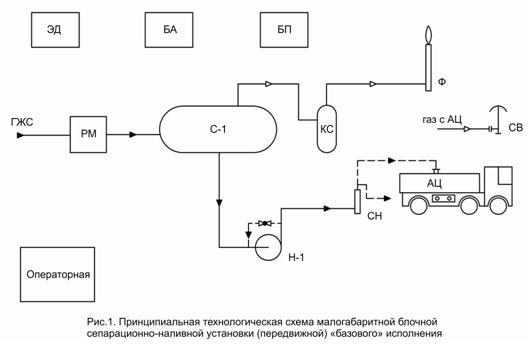 Basic technical characteristics of small sized modular separation and filling unit (mobile station)
Parameter

Value

Pressure measuring range, MPa

from 0 to 4,0

Temperature measuring range, °С

from -4 to +80

Watering, %

from 0 to 100

Liquid flow, t/day

up to 600

Gas flow, nm3/day

up to 50 000

Absolute measurement error limit, %

Temperature, °С

±1,5

Watering, %

water component up to 70%

water component over 70%

±1,0

±1,2

Relative measurement error limit, %

Mass flow rate

±2,5

Volumetric flow rate

±5

Pressure, % of maximum scale value, not more than

±1,5
Parameters for monitored oil-water-gas mixture
viscosity – not more than 300 m2/s (cS)
saltiness – not more than 200 г/дм3 (g/l)
mechanical impurities – not more than 2%
Operational temperature range from minus 40 to plus 50°C.
SMSFU (mobile version) with storage tank